Party, Party, Party!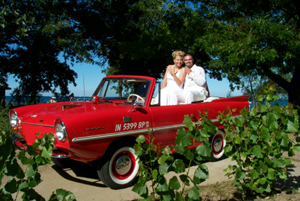 Click the thumbnails for a larger picture.
Graduation day! Have a "Once in a lifetime" experience. Your friends will never forget this day.
Have a distinctive wedding and reception. Incorporate a beach theme instead of the classic church wedding. After the marriage ceremony, the bride and groom are picked-up in a concourse Amphicar limo and transported to the reception hall (by water). Perfect water amphicar wedding sites are available all over the Midwest. And rides are available for all attending this special event.
And what could be more exiting and memorable for your child's birthday party? We meet at a public launch, and the fun begins! Don't forget your camera.
Even adult parties. Everyone goes for rides. Fun is guarantee!
Contact us for a quote. Prices vary according to location.